Short story/review why I bought the new Sony HT-G700.
Been using my old Samsung HW-J450 and decided I need to upgrade it. Sadly currently, the space in the room is limited, and I can't have any rear speakers. So I started looking around, looking at various options — quite a lot of different offerings. But none of them seem to match all my criteria. But to my luck, I found that Sony just released HT-G700. And I started researching this device.
In my opinion, this new soundbar is an upgrade from HT-X9000F, which was released a couple of years ago. HT-G700 has everything the older X9000F had, but it has way more features.
Sony HT-G700 is 3.1 ch and is Dolby Atmos/DTS:X compatible, total 400 W power output. Features center speaker for clearer dialogs and has Immersive AE upscale technology.
Video Sony HT-G700 Review and Sound Demo
The soundbar has a real premium look, and everything, including the sub, feels solid and well built. And spoiler alert, G700 sounds terrific!
For me, one of the small, but amazing features of HT-G700 is that you can set the soundbar display to toggle off automatically. I previously had an older Samsung HW-J450, and it had the soundbar display always on, and that was quite annoying.
Soundbar display has three different brightness modes and is quite clear enough. But because there as some hefty grill bars in front of the screen. From certain angles, it's a bit hard to read. For the physical buttons, it has power, input, Bluetooth and power up/down capacitive touch buttons on the top. In the darkness the buttons are quite useless because they flush with the body, and you can't feel them.
HT-G700 is a smart device, so you will want to read the manual. Lots of features and settings you can adjust. The remote control is excellent and helps a lot because it has all the functions readily available. But I still recommend taking a look and learning a few things. For example, the Display button lets you check what sound modes you have enabled.
HT-G700 Features
For the sound modes, you get Auto Sound, Cinema, Music, and Standard. With all these modes, you can enable these effects: Night Mode, Voice Mode, and the Immersive AE. All these are quite self-explanatory and give you effortless control to adjust all the settings.
I want to mention that HT-G700 has all the necessary ports. For all the possible configurations and support lots of formats, you can find all the information on the Sony website.
HT-G700 is up to date with the latest features. And has all the necessary ports for all the possible configurations and supports lots of different formats. Check my article on Tarantulo.TV for more information.
One thing that bothered me, that some why the soundbar has quite short power cables. A small thing, but probably one annoying thing about the device.
The sound
Before ordering, I was looking for information. Does it sound good? Is it worth 600$? The answer to both questions is a definite YES!
Does Dolby Atmos surround works with only three speakers and a sub? The answer is also YES!
What can I tell you it sounds terrific! The highs are sharp, the mids feel balanced, and lows are powerful. The subwoofer is doing the job!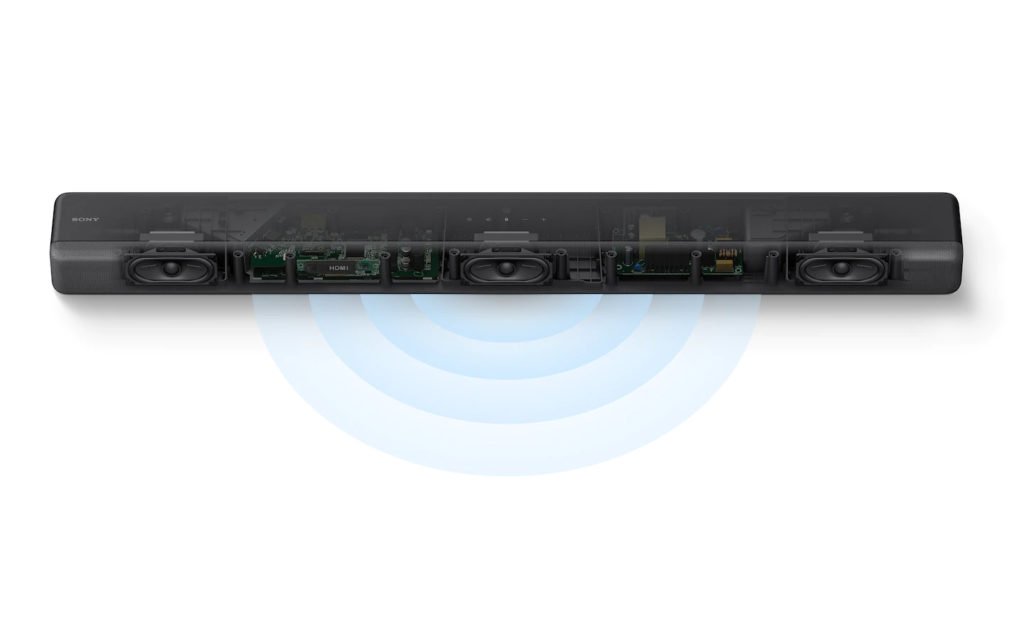 The music sounds fantastic. Watching movies, you get more than enough base. So if you are living in a flat, your neighbors might not be that happy.
And the dialogs are crystal clear with Voice effect enabled. Everything works, and it sounds great.
Verdict
And to my surprise, it is LOUD! Not only can you watch movies with an impressive base, listen to clear sounding music. But this piece of marvelous Sony engineering would work great at any party!
Finally, I would like to say yes, Sony HT-G700 is the right choice. If you do not have enough space for rear speakers, have weird ceilings, or want to watch movies in random locations. This soundbar is terrific. Dolby Atmos. Easy to control. All the latest features.
GENERAL
Speaker System Configuration: 3.1-channel
Bluetooth Profiles: Advanced Audio Distribution Profile (A2DP), Audio/Video Remote Control Profile (AVRCP)
Connectivity Interfaces: Bluetooth 5.0
Video Pass-Through: 2160 (4K)
SPEAKER SYSTEM
System Components: sound bar, subwoofer
Amplification Type: active
Audio System Nominal Output Power (Total): 400 Watt
Audio Amplifier: integrated
Connectivity Technology: wired
Sound Effects: S-Force Pro, Vertical Surround
Built-in Decoders: DTS 96/24, DTS decoder, DTS-ES decoder, DTS-HD High Resolution, DTS-HD Master Audio, DTS:X, Dolby Atmos, Dolby Digital, Dolby Digital Plus, Dolby TrueHD
Full list over HDMI EARC: Dolby Digital, Dolby Digital plus, Dolby TrueHD, Dolby Atmos, Dolby Dual mono, DTS, DTS HD High-Resolution Audio, DTS HD Master Audio, DTS ES, DTS 96 / 24, DTS: X, LPCM
You can find full specifications at Sony page.