For the longest time, I wanted to try out a mouse like the Emisat vertical gaming mouse. Not to emphasize the part on gaming, but a vertical mouse. My previous mouse, CM Storm Xornet, has served me for almost 5 years, so it was time for a replacement.
Accidentally stumbled upon this mouse. A vertical mouse, gaming! Switchable DPI and a 5D joystick. What a package! And also it cost only around 17€, so thought why not. Also, I did not find any reviews for Emisat Canyon mouse (CND-SGM14RGB), so this mouse intrigued me in multiple ways.
Emisat unboxing experience
My new peripheral arrived in the neat package design to really attract attention. It really screams gaming. Not only it has RGB at the bottom, and at the top, it even has a warning sign in front. A random mech sticker is included in the package completing the gaming package. A short manual and the mouse itself completes the listing of the box contents.
Be sure to watch the video for the full unboxing experience for Emisat mouse.
Why use a vertical mouse?
My interest in vertical mouse was not a wish to try out something, but it came in part of a necessity. Long time working in random and not the best ergonomic tables and conditions caused enough damage to my wrists, and I think I have a light RSI. So, for a keyboard, I have been using Microsoft Natural Ergonomic Keyboard 4000.
I was only using it for a couple of days and can say it is quite a different experience. The first few hours were not really fun because all the muscle memory goes out the window. And some re learning is required. Mouse height is different, the way you move the mouse is quite different, the locations of the buttons are in weird angles.
But all this experience does not relate directly to the Emisat mouse; it's just me trying out a vertical mouse for the first time.
Is Emisat worth buying?
After the first time taking it my hands, it does not scream premium, but it's the worst build quality I have seen. The left side middle and bottom right side has a nice grippy texture. The plastic feels sort of rubber-like. Mouse weighs around ~140 grams, so it's quite heavy; my previous mouse was only ~68 grams. The braided cable is an excellent addition, but in real life, the orange color is a bit too bright for my taste.
Out of the box, the mouse was sadly barely usable, had to make some little tweaks with software. Next, the button switches are really loud, and the scroll wheel is tough to press, you must use way too much force. I hope after some more extended usage, it will get a little bit softer.
The 5D joystick is really poorly built. It got stuck in the bottom or top position… Moving it to bottom or top not always triggers the action. You also can press down on the joystick, but since it's tough to press it, you almost end up moving to one of the positions before you can push it. In a few words, 5D joystick barely works.
I really had big hopes for the joystick-button, but it makes to really hard like the mouse. When you can barely use one of its significant promo features. Not sure how this could have passed quality control.
The software
What really confused me is 7 programmable buttons. Actually, you can customize all the 11 buttons on the Emisat mouse. So it's bizarre that on the website and the manual it says 7 programmable buttons.
The mouse software comes with office and gaming modes. You can switch between them by holding the middle and right buttons for 3 seconds. So it basically allows you to switch between two different configurations. Gaming mode also USB polling rate options that gives a choice between 125 – 1000 Hz.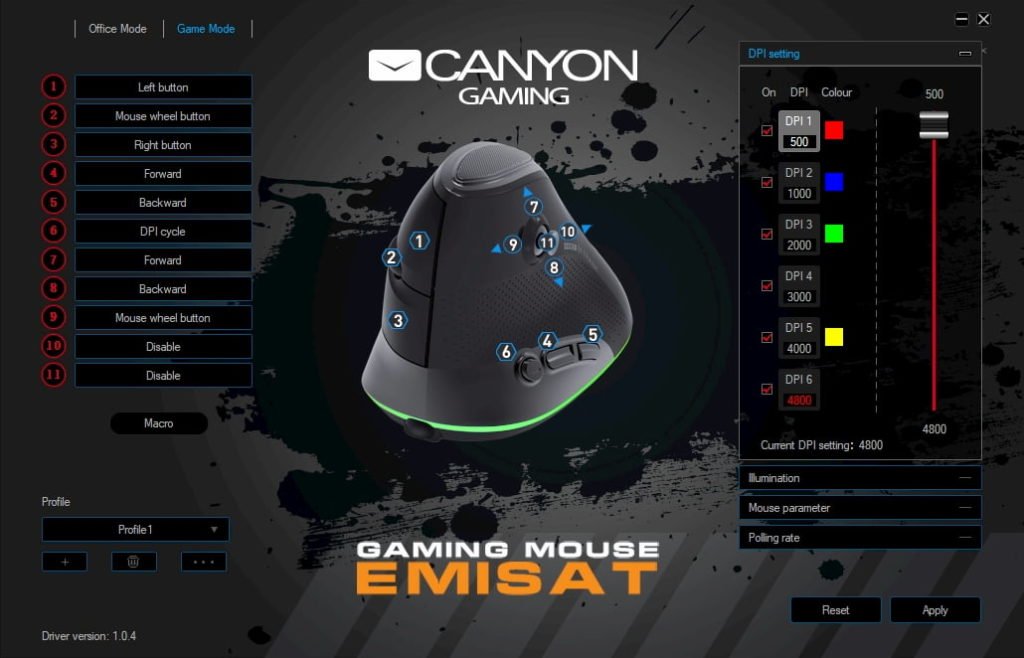 You can set different functions for all keys, like default mouse options, multimedia controls, and some applications like Calculator. It also gives you options to record your macros, so it provides some flexibility. What is lacking is an option to launch custom programs, bat files, or something similar. But there is a simple workaround, you set a shortcut key on your program shortcut and then create a Key combination in customization options.
You can turn off the RGB by setting the color to black (#000) in both locations (top and bottom ring). The DPI settings allow us to switch between 500 – 4800 DPI and also to change color for each DPI step.
Conclusion
I ended up using Game Mode, with the USB polling rate set to 1000 Hz.
DPI: 4800
Mouse sensitivity: 4
Pointer precision: off
Scrolling speed: 5
These settings make the mouse usable and allow at least to work as efficiently as you can while you are learning to use a vertical mouse.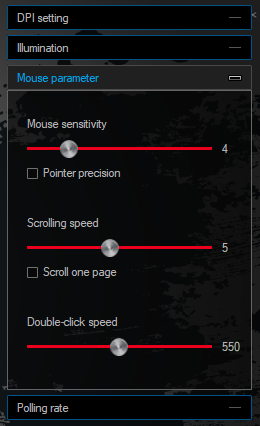 The mouse has a lot of great ideas, but some of them are really poorly implemented. I contacted the Canyon support; if I get a reply, I might add something to this article. But if it's not a defective mouse (joystick issues), I probably can't recommend it. It has some useful features for a low price, but at least they must work. The mouse is not great, but it is good enough.
Final rating: 6/10
Tl;dr
Pros
Low price to try out a vertical mouse;
Able to turn off RGB;
DPI switching and lots of customizable buttons;
Cons
Build quality is not the greatest;
Software lacks options to add custom programs;